Origins of our name

TORAJI gets its name from the Korean word for Balloon flower.
The Balloon flower has been used since ancient times as a medicinal herb. With the idea of a balanced diet leading to healthy mind and body, we christened the shop TORAJI.
We aim to provide customers with food that, like the Balloon flower, is beautiful to behold, delicious to eat, and healthful for the body. Each and every day we continue to make strides to better realize this goal.
TORAJI's commitment

Our shop opened in December 1995 in a small backstreet in Ebisu in Tokyo's Shibuya-ku.
We felt that serving thicker cuts of meat would convey their delicious taste better, so we offered what at the time were unusually thick cuts.
Our brand logo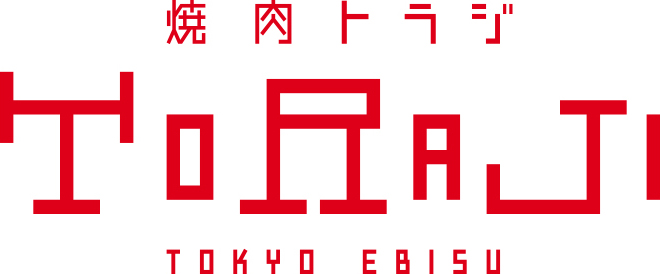 In July 2015, TORAJI debuted a new logo as part of the 20th anniversary of its founding.
The T in Toraji symbolises our 'Three-T' promise to
customers:True Yakiniku
Taste of Good Quality
Time of Heartwarming
In this way, our logo boldly announces the fun, richness, and refinement that our new and evolving YAKINIKU barbecue style has to offer.
With our new logo comes a new identity and a newfound zeal to deliver the best to our customers.
Brand slogan

Delicious food is a key part of life.
For those days when something special happened…
For those days when you're preparing for a new challenge ahead…
For those days you want to celebrate someone you love…
Or, just for ordinary days when you want to treat yourself!
On those days and others,
we at TORAJI are delighted to welcome you with the most delicious food.
Our outstanding ingredients and culinary professionals,
not to mention our superb hospitality,
will make this a time to remember.
TORAJI – because delicious meals lead to a richer life.

History of TORAJI
1995

TORAJI Honten The first store

opened

Smokeless roaster and open kitchen adopted

Born of Thick-cut beef tongue




1998

Ebisu-an-ten opened




1999

Reorganized to Kim Corporation




Ginza-8-chome-ten opened

first store in Ginza




2000

Ebisu-en-ten,Ginza-6-chome-ten,Yurakucho-ten opened




2001

Reorganized to TORAJI

Harumi-toriton-ten opened

first store in Commercial facility

Hibiya-ten,Akasaka-ten,Shibuya-Parco-ten opened




2002

TORAJI Chun-Ha-Chu-Dong opened

Marubiru opened

Venus Fort-ten,Ueno-ten,PARAM Caretta Shiodome-ten opened

Born of Hirekaku TORAJI's filet




2003

Central kitchen opened

Ikusupiari-ten opened

first store in Chiba-ken

、Kourakuen-ten,Tamagawa-Takashimaya S.C ten opened




2004

Shonan-ten opened first store in Kanagawa-ken
Kasumicho-ten opened




2005

Chubu Centrair International Airport Centrair-ten opened

first store in Airport

Nagoya Central Towers-ten opened

first store in Nagoya

Tsukuba-ten opened

first store in Ibaraki

Born of Black miso sauce




2006

Haneda-ten opened

First FC store

Ikebukuro-nishiguti-ten,Aoyama-ten,Yaesu-ten,Shinjuku-ten opened




2007

Central kitchen moved to Shinkiba, Koto-ku, Tokyo
Tsuruyacho-ten, Ginza-core-ten opened




2008

International forum-yoko-ten, Shinyokohama-ten,Akihabara-ten opened




2009

Yakiniku TORAJI ILSIM /Teppanyaki Issin opened

first store in hotel

Meieki-3-chome-ten opened

Born of TORAJI's Kimchi

DIAMOND-CUT KALBI




2010

The introduction of free-standing tongs

at the opening of our Sunshine restaurant.

Kyoto-ten opened

first store in Kansai

Roppongi-5-chome-ten, Kyoto-ten opened




2011

"Culinary Techniques for Yakiniku, charcoal-grilled meat TORAJI way" published




2012

We have opened in Kamiooka our TORAJI Hana restaurant, the first to serve leafy vegetables, making "a Yakiniku restaurant where you could eat plenty of vegetables" a reality.

Hana-Nishishinjuku-ten,Hana-SUNAMO-ten,Hana-Kyotosanjyoukiyamati-ten opened

Asakusa-EKIMISE-ten opened




2013

Central kitchen certified by Tokyo Metropolitan Government as "Tokyo Food Hygiene Meister" 

Chilled distribution of chuck short ribs to our restaurants across the board takes off.

Born of Kuroge-wagyu kalbi boneless ribs

Kyobashi-ten,Ikebukuro-higashiguchi-ten,Ueno-PLAZA U-ten,Shibadaimon-ten,Azabujuban-ten,AEON Mall-makuhari-ten




2014

Receives Excellent food service industry award for product development by Ministry of Agriculture, Forestry and Fisheries

Kinshicho-ten,Kanda-ten,Machida-ten,Toyosu-ten,Kitasenju-ten opened

Born of TORAJI'S BEEF TONGUE

Born of TORAJI MACCORI




2015

"TORAJI Shokudo" (eatery), our new enterprise,

opens its first restaurant

Kichijyogi-ten,Shinjuku-touhoubiru-ten,Toressa-yokohama-ten,Cocoon City-ten,Kunitachi-ten opened